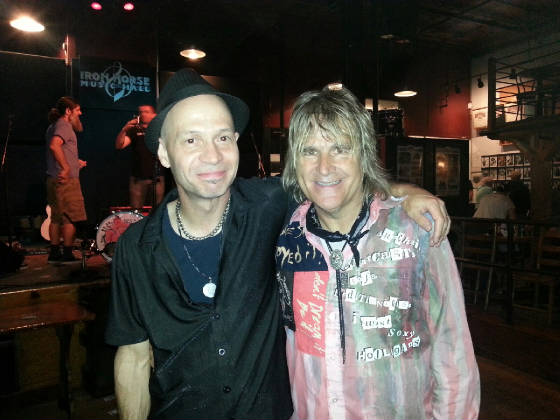 Singer, Musician, Songwriter Scott Lawson Pomeroy has continued to add to his already impressive music resume, with original songs featured on 4 major television networks as recently as 2019.

But let's go back a few more years first...
The list of people connected to Scott is like a quiz show on Music History - Peter Asher (Peter & Gordon), Mick Jones (Foreigner), Hilton Valentine (The Animals), Mike Peters (The Alarm), Rick Derringer, David Lindley, Ricky Scaggs, Doc Watson, Commander Cody, Peter Wolf, Marianne Faithfull and members of the Steve Miller, Johnny Winter, James Cotton and Muddy Waters Blues Bands are just a sample of artists Scott has been associated with over the years. Either having performed in support of, or performed/recorded with.
While living in Boston in the early '90s, Scott recorded and released the song "Hideaway" with the Boston band Border Patrol. Although brief in existence, the band did manage to get the song included on a Warner Brothers produced compilation, which was distributed throughout the U.S. and Canada. Working with David Lindley (Jackson Browne, Warren Zevon, Terry Reid) inspired Scott to excel at lap steel and slide guitars, and subsequent tours from Philadelphia (with guitarist Steve Morse of the Dixie Dregs/Deep Purple) to Portland, Maine (with Bluegrass Icon David Grisman) to Boston (with Marianne Faithfull, Luka Bloom and Texas) soon followed.
Relocating to the Ocean State of Rhode Island, Scott formed the Country Rock band Radio Ranch (later called "The Ranch") and performed all over the Northeast in support of the nations top country acts through the mid '90s. Martina McBride, Patty Loveless, Ricky Scaggs, Jimmy Dale Gilmore, Riders in The Sky, John Conlee all took the stage after Scott first served as the opening act's lead singer and frontman. A few shows with local blues legends Roomful Of Blues soon took Scott into another direction. Scott briefly morphed into alt-country enigma Zip Cody and played for an extended time with such headliners as James Montgomery, Luther Guitar Junior Johnson, Sleepy LaBeef. Playing blistering slide guitar and screaming delta Blues reached a climax in 2000 with the release of "Never Get Out Of These Blues Alive" before new projects came calling.
Shortly after settling into the small, artsy Western Massachusetts town of Northampton in late 2000, Scott co-founded the original rock band Mambo Sons. 16 years and 4 CDs later, the band has earned worldwide rave reviews and major praises by publications and internet distribution services in Thailand, Germany, Great Britain/UK, Croatia, Japan, Sweden and the entire United States. Mambo Sons 2000 debut CD features Rock and Roll Hall OF Famer Rick Derringer (Johnny Winter, Edgar Winter, Solo) and Kenny Aaronson (Keith Richards, Bob Dylan) and led to three addditional CDs - including the double CD "Heavy Days" which marked the band's 10th anniversary.
Lead singer with '80s Pop revivalists Orange Crush since 2002, Scott has performed over 1,000 shows over the majority of the United States. Major markets include Chicago, Nashville, New York City and the band continues to hold a major presence in the Northeast, playing an average of 100 shows per year. A whole new generation of music fans have seen Scott perform in support of such national acts as OK Go!, Santigold and Reel Big Fish. In 2011, music from the band's all-original CD O-Crush '80s All Over was featured on the smash hit ABC TV Comedy Happy Endings, the made for TV movie Game Of Your Life on NBC, and The Cartoon Network debuted a young adult mystery adventure show Tower Prep also featuring original music by Orange Crush.
2012-2015 saw Orange Crush break through with more original music featured on NBC's Community (starring Chevy Chase) and the season finale of ABC's Happy Endings. Good fortunes have continued into 2016, as ABC used songs from the CD for the new sitcom Fresh Off The Boat. Although the band no longer performs live, it appears some songs from the original CD have made it on to syndication.
2015-2018 Saw scott share the stage with both Denny Laine of Wings and The Moody Blues. Mike Peters of The Alarm (the former resulting in a brief tour which included Peter Asher). Later, Scott joined horn-driven club veterans Savage Brothers Band to sing lead vocals and play bass. Summer of 2017 Scott briefly morphed into Zip Cody to embody Metal singer Ronnie James Dio as part of Transperformance27 at the Pines Theater and in 2018, Scott returned to the Transperformance stage as '80s New Wave Icon Adam Ant.
2019 has Scott back in the studio to follow up on last year's solo records "Lost at Sea/Unconditional", and has already released a batch of cover songs with the new vocal duo Bigger Stars. Scott and Amy joined together at Transperformance28 as Johnny and Edgar Winter for "Lookstock" commemorating the 50th anniversary of Woodstock 69. Scott busted out the Flying V and with generous help from his bandmates, they slayed the capacity outdoor crowd with some heavy Blues rock. To finish the year, Orange Crush made more news by (yet again) landing a song on the TV show Single Parents on ABC. 2020 was cut short due to COVID, but Bigger Stars still played for a remote audience as part of Transperformance "Live Aid" as British Heavy Metal rockers Judas Priest, and in 2021 are putting together a full length original at home recording called "Shadows", featuring songs written by both Scott and Amy for the first time.